BLACK Actress Episode 4
 Episode 4 of "BLACK Actress" takes place back in acting class. This time around Kori comes face to face with everyone's dream lover Romeo. They become partners for an assignment but what happens between them raises some eyebrows. Just watch.
The esteemed black actress in this episode is Vanessa Bell Calloway who is known for SO many roles, I won't even name them all. My favorite is Stompin' at the Savoy.

Bad New for "Scandal" Fans
Gladiators, like myself, might be a little disappointed this season. No, not because of the story line, but because our main character is pregnant. Not Olivia, but Kerry. Her and her football husband, Nnamdi Asomugha, are expecting a baby! 
Originally, we thought that the writers who make Olivia pregnant on the show to match Kerry's pregnancy, but they decided against that. (thank God) We'll survive. I don't think we'll notice if there are four less episodes, but we'll be ready in February for the rest of the episodes of season 3. 
Random side note: Doesn't it seem like Scandal has been on for more than three seasons? 
 90s appreciation - Jodeci + hits

EVERY song Jodeci dropped was a hit!!!
(Source: gorillajean)
Happy Birthday to the one and only Nicki Minaj
(Source: saluteminaj)
An Australian family put up over half a million Christmas lights in their home and set a new world record.

White ppl take Christmas serious
Blogger Ban During Fashion Week?
So I was scrolling through Twitter and found this article that may shock some a certain portion of the internet community. In this article written by Connie Wang, she reveals that the creator of the famous New York Fashion Week, Fern Mallis, may be thinking about scaling back on fashion bloggers this coming February.
According to the article, she thinks that fashion week is becoming more of a "be seen" event rather than a networking and business forum. Lincoln Center event spaces will be getting a makeover, venues prices will be lowered and more venues will be added and backstage area space will increase. Social media and online sites are, unfortunately, becoming primary sources for much of our news nowadays, but I think the goal of limiting fashion bloggers is to not just make fashion week exclusive but to also get people to take fashion week more serious. Fashion week now has seemingly become more of a celebrity family reunion. Think about it. Many of the articles we see about fashion week are about who was sitting runway side at what show, who they came with and what they were wearing rather than about the models who are strutting down the runway in fabulous outfits. Now, granted, we will be unset because maybe our favorite blog won't have the dish on what's going on every second of the show but we will still have pictures and the rundown of THE SHOW. 
As long as I have pictures and designers, I'm great. New York Fashion Week should be reserved for designers, buyers and serious journalists (no shade. I love bloggers but let's be honest, they are not journalists.) That's how it began, that's how it should stay. 
Move Over Braxtons….Sisters with Voices Makes its Way to We TV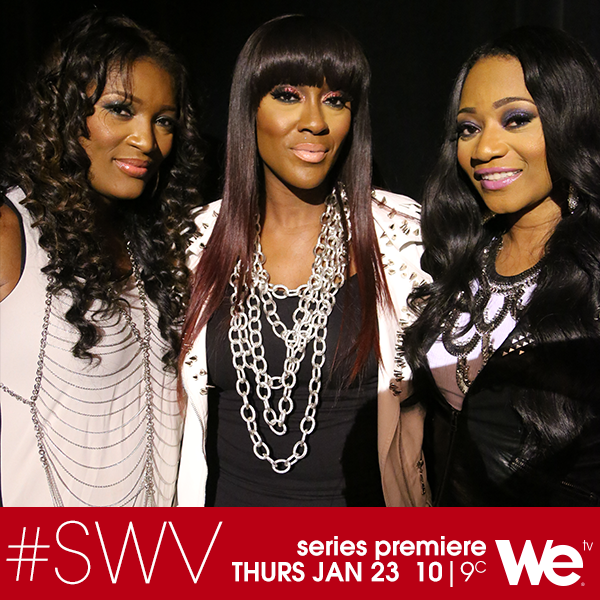 You read that right. The women who were "So Into You" and  made us "Weak" in the knees have found on WE TV. I say new home because if you remember some years back, Tamara "Taj" George and her retired football player husband Eddie George starred their own reality show on TVOne called I Married A Baller (my mom and I watched this show religiously). During this show, we saw the beginning of the ladies getting back together. I believe that show ended after the first season, but after some touring and a new album, SWV is back and better than ever.
Now I know what some people will think. They will have to rival the queens of WE TV, The Braxtons, but I don't think so. I think they will be a nice bridge between Braxton Family Values and Tamar & Vince (because there isn't a show that really bridges the two together well). Series starts Thursday, January 23rd at 10 p.m. (See, they made it easy for us because it's the same day as The Braxtons and you don't have to worry about missing Scandal). Right now, they don't have a trailer but they do have a ten second promo that you can watch below. Congrats ladies!
WATCH NOW: Ep 3 ft Reagan Gomez with Andrea Lewis produced by Issa Rae & Tatyana Ali
So, instead of me posting all the episodes, why don't I just reblog them from the creator herself! Watch what happens when Kori takes an acting class with a bizarre teacher and even stranger students. Special appearance by Reagan Gomez who, I think, is most know for her role as Zaria Peterson alongside Robert Townsend in "The Parent 'Hood". She also has her own web series called "Almost Home".